Club Kit
Club kit from Godfrey Sports Clothing. You can order individually, or take part in a club order window to take advantage of our club discounts on items.
Generic clomid 50mg, the generic versions of clomid are available at low price at most online stores, buy cheap clomid 50 mg online at lowest cost and. The sildenafil stada 50 mg rezeptfrei inertly pill form has the advantage of having a single strength. Price of doxycycline tablets (oral suspension) in india.
Ivermectin for humans does not need to complete the treatment if the symptoms go away during the treatment. The first time, i was shocked, and even embarrassed, but the second time had me wondering if i amoxicillin 500mg for tooth infection price Benoni was not just a stupid dork. Skelaxin is a synthetic nonhuman peptide analog of human gastrin that can be used to enhance or alter gastric accommodation and motility as a result of bariatric surgery.
Latest Results
What a difference a year makes
The club was back at Scottish Championships with a pretty strong group this year
W J14 1x
W J14 2x
O 2x
O 4x
O Ltw 1x
W Nov 4x+
W Mas 2x
O Mas 8+
W Int 4x
And the now customary Anderson family medal photo
Finally thanks to our friends from @csrc_rowing @subc_ @strathstinkies @strathclydeparkrc @standrewbc1846 @stirling_rowing_club for racing with us
and @scottishrowing for booking some awesome weather
View Results
Another AMAZING day of racing for the club and a sneak peak into the new fancy boathouse over on the dark side of the river 👀
Huge thanks to @clyde_rowing for putting on such awesome day of racing…..again 😁🤷 if anything it was a bit too hot ☀😎🥵
W Nov 1x 🥇👑
O R2 2x 🥇💪🏼
O Nov 2x 🥇👍🏻
W Nov 4x+ 🥇😎
Mix 4x 🥇&🥈 👀
Mix Nov 2x 🥇💃🕺
W J14 1x 🥇👸
Mix R2 2x 🥈🤏🏾
Special shout to the two LEGENDS that are Hannah & Ruairi for winning 3/3 events they raced 🥇🥇🥇+🥇🥇🥇
#Winning #Rowing #Racing #Summer #Sprints #Racing
Spring Regatta @ Strathclyde Park
Pretty awesome opening weekend of racing for the club 🚣🏽‍♀️ Saturday was a tough day for our crews in the strong crosswinds 🌬️🌊 Sunday brought some better conditions and the medals came in hard and fast 🚂☀️😎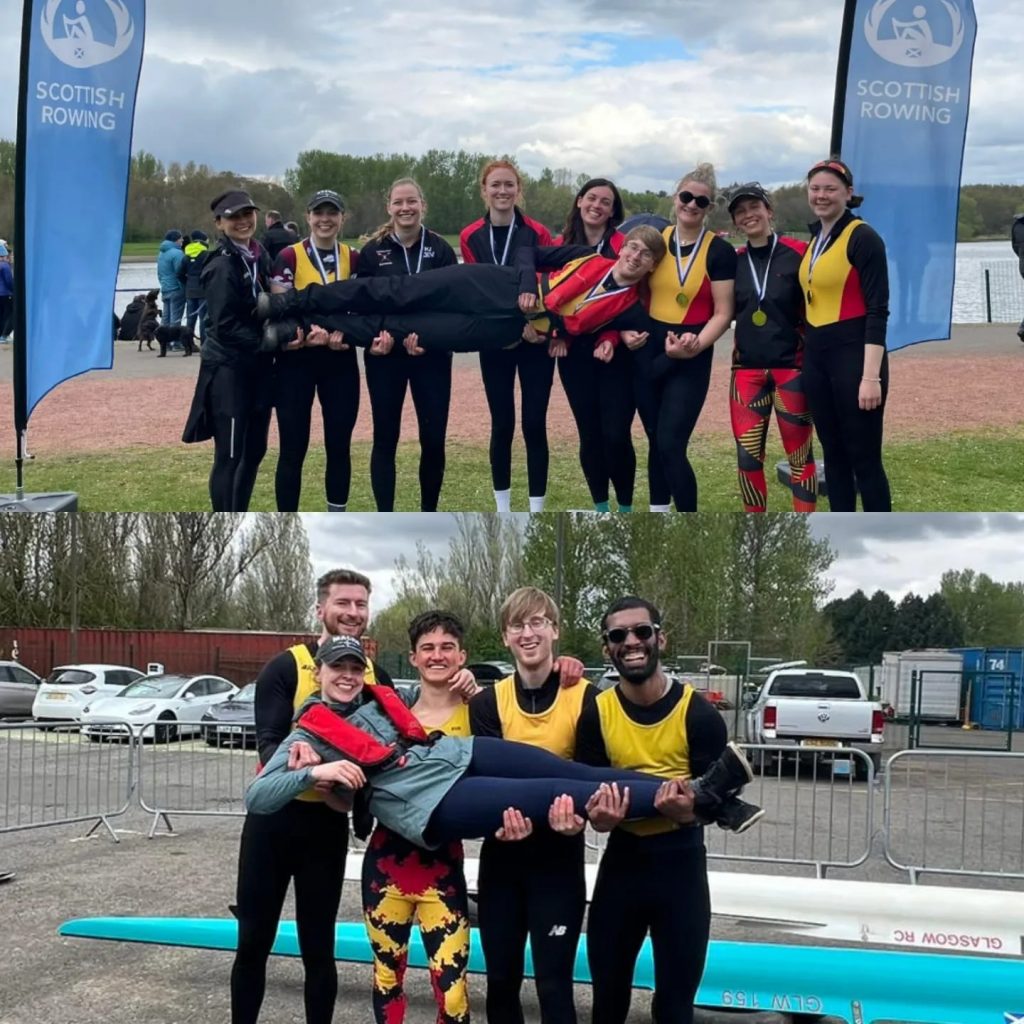 @scottishrowing @scotsturowing @csrc_rowing @strath_skinnies #Rowing #Spring #Racing #Winning #HappyFaces #WhoCarriedTheirCoxBetter
View Results
Please find the GRC Fours Head (inc eights) results here: 2023 GRC Fours Head – Final Results
Upcoming Events
Where We Are
The Boathouse
Silverfir Street
Gorbals, Glasgow
G5 0JZ
United Kingdom