Revised C-19 Guidance
On 27th August Scottish Rowing provided a new update to their guidance for rowing clubs (Phase 3 Guidance for Rowing Version 4).
This has been produced in line with the Government guidance on health, physical distancing and hygiene https://www.gov.scot/coronavirus-covid-19/
All details are available and should be read directly from the Scottish Rowing website.
The fundamental guidance remains the same and is contained in the image below: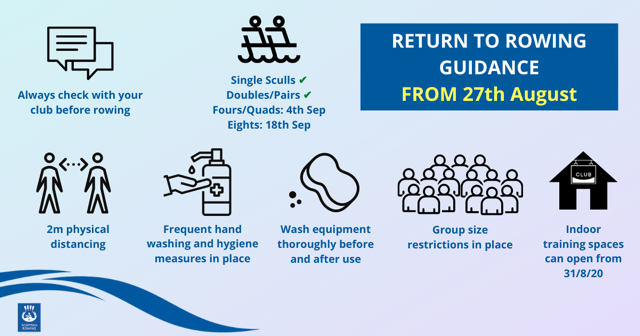 The main changes for GRC are considerations around facilities, indoor sport facilities (the gym), crew boat rowing and coxing.
Anyone using the club needs to be familiar with these details and to observe them carefully, for their own safety and that of others.
Facilities at GRC: Restrictions remain regarding access to the changing rooms, showers, gym and club room. The disabled toilet is in use.
Indoor sport facilities: Access to our usual gym is still restricted due to lack of ventilation. Equipment can be moved for a session in the boat bay, then returned to the gym. All hygiene and distancing measures need to be observed for any of these 'indoor' sessions, which will be helpful on a rainy day.
Crew boat rowing: there is gradual reintroduction of crew boat rowing, described in detail in the SR Guidelines. Please refer to these. One important point is that if one person tests Covid positive, the rest of the crew in that boat are counted as close contacts and will need to self-isolate following SG guidelines. Permission from the parents of Junior rowers needs to be obtained before any crew boat rowing.
Coxing: Anyone thinking about coxing needs to read the SR guidelines very carefully and thy are expected to follow this guidance in detail.
In addition please ensure you are familiar with and follow the safety guidance on this website, including the Rules if the River, and incident and damage reporting.GRC-Covid-19-Sculling 3rd Sept updatedExplanatory notes – Bookings and permissions
The need to use the existing boat booking and sign out/in sheets remains. This is essential to manage the number of members within the club grounds, boat allocation and most importantly will assist Public Health to implement Test and Protect if anyone tests positive.
The existing links to boat booking, signing out/in and cleanliness remain valid and are included below:
---