Nithsdale Regatta 2019
GRC filled the trailer and headed off to another club regatta in the south of Scotland. Nithsdale Amature Rowing Club hosted a fantastic fun day of racing in perfect rowing weather – sunny and a gentle cool breeze to stop you overheating. GRC entered a number of events with our Novice Women's squad and Vet squad representing the club admirably winning a couple of events.
The two squads merged together (with the women's squad coaches involved) to make a Club 8. Not the most successful race but massive fun against a young(ish) home team.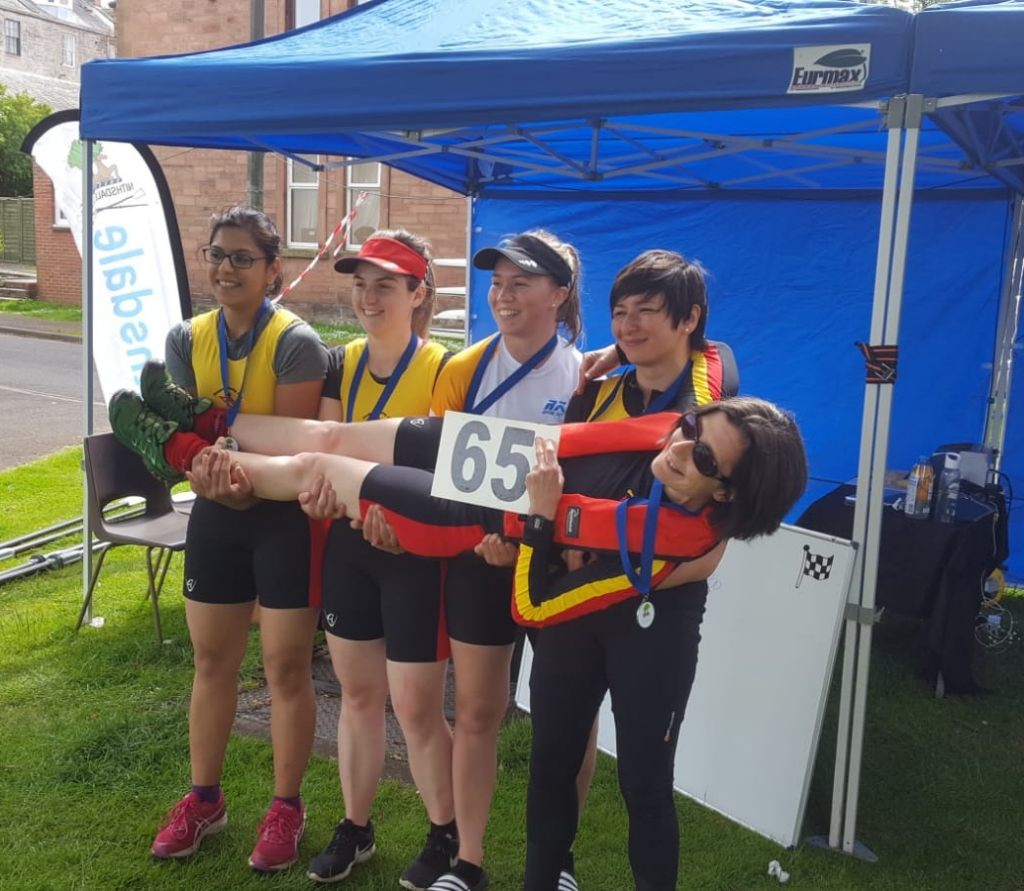 The Women's Novice squad, comprising on this occasion of bow: Hannah Stewart, 2: Rasika Mahajan, 3: Amy Anderson, Stroke: Emma McKie and Cox: Roisin Ure nailed the Women's Novice Coxed Quad rowing well together and showing the sustained power needed to drive their boat home comfortably ahead of their competition.
From that quad, Amy and Emma had a slightly tougher route to successfully show their dominance on the Women's Novice double event. They powered through a strong rival team from Castle Semple Rowing Club in Lochwinnoch to get through to the final against a team from St Andrew Boat Club who train in Edinburgh. Amy and Emma showed dominance through both races to successfully claim their second medals of the day.
Hannah's parents, Peter and Naomi, joined in the fun entering the Novice Mixed Double event and Hannah joined her dad to do the Generation Doubles events. Unfortunately, stronger and more experienced crews lined up against them being able to navigate the difficult Nith course to snatch victory from the GRC teams. Peter then went on to compete in the Men's Veteran E double with Bill Slimmond but a similar more experienced and better drilled team from Talkin Tarn were able to over power the GRC double to the line.
The veteran contingent was completed by the slightly younger Men's Vet C double giving Thomas Boyd his first river regatta experience away from the river Clyde and he rowed commendably with his more experienced racing partner, Steve. This scratch crew who only ever rowed together at this event, were narrowly overtaken by a considerably more experienced home team from Nithsdale. Steve went on to represent GRC in the Men's Vet C single sculls, winning the first round against a Novice sculler from down the Clyde at Clydesdale ARC qualifying for the 4th last race of the day against a much more experienced sculler from Castle Semple RC. The Semple sculler eased ahead of Steve to win the event.
A former GRC sculler, Jenna Boyd representing Dundee University Boat Club), teamed up with Rasika from the Quad to enter the Women's Res 2 Double Sculls. They were up against another GRC sculler who was racing with a team mate from Stirling ARC. These teams were fairly evenly matched but the Stirling team, having had more experience together, squeezed ahead to win the heat. Jenna then went on to compete in the hugely competitive Women's Res 2 single sculls fro Dundee University. In a closely fought event, she was overtaken by the stronger sculler from Talkin Tarn RC.
GRC had a very good day at the event which introduced rowers to new venues, events and even to racing. Our training squad managed to bring home some silverware and we all had a fantastic day. Thank you to Nithsdale ARC for hosting such a relaxed and fun event on such a nice stretch of water on such a fine day. Look forward to it next year.
---