Covid-19 Letter
Dear Glasgow Rowing Club members,
Just a reminder of Scottish Rowing guidance and the website to consult for all the current information.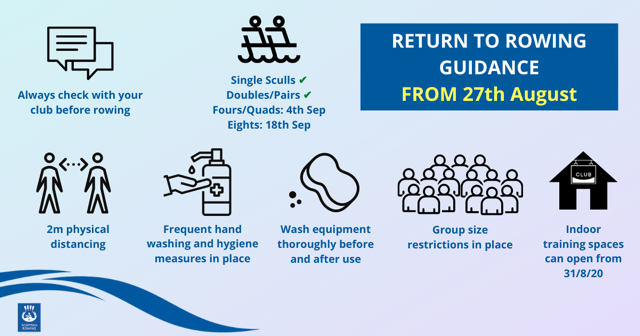 https://www.scottish-rowing.org.uk/index.php/cov19hub/cov19-2
We are not opening our indoor training space at present due to having the flooring replaced and we feel there is not adequate ventilation to allow us to open this safely.
A gentle reminder about signing in and out!
It is mandatory to sign in and out of the club even if arriving, parking and leaving again to do something else. If this is a problem to people – do not enter the club grounds and meet elsewhere.
Do not enter the club grounds if you are unwell. Consider following Scottish Government advice to self-isolate and book a test if you have symptoms of coronavirus. NHS Inform website has useful information.
Please wash or sanitise your hands frequently.
All boats and equipment must be washed thoroughly with soap and water.
The changing rooms, clubhouse and kitchen area are not open for use until further notice.
Come dressed for rowing and bring anything you need with you.
Please read the guidance and familiarise yourself with the expectations for everyone rowing. It is everyone's responsibility to be aware of this information and to adhere to it as closely as possible.
We want as many people as possible to be rowing. This is very tricky for many reasons. Rowing at present is not the social activity it was but this is necessary to allow people to remain rowing.
Thank you for your help with all of this.
Hope to see everyone at the club soon.
Mary Rouse (Covid19 Officer)
Paul Ingram (Club Captain)
---